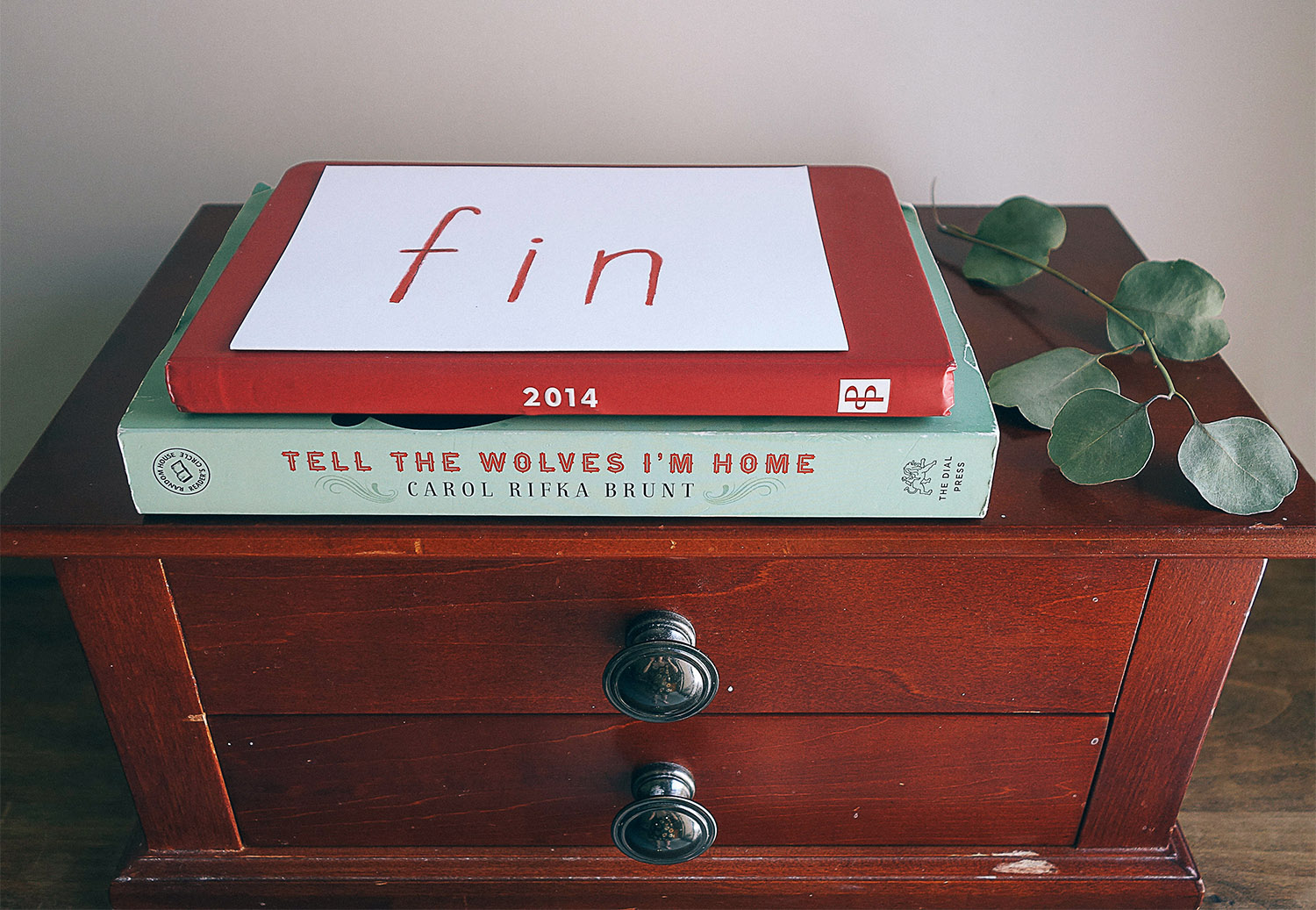 In
Tell the Wolves I'm Home
, Finn Weiss keeps
Joy of Cooking
on a bookshelf in his kitchen. It is a ritual for him to pull it down and tap his finger on the cover, as if debating what to cook that night. However, the book has actually been hollowed out, and found inside are take-out menus from the best restaurants in New York City. "A different country every night."
Tell the Wolves I'm Home
follows fourteen-year-old June Elbus after she loses her best friend, the kind and brilliant Uncle Finn. The setting, New York during the
1980s AIDS epidemic
, the troubled characters, and the suspense of so many unanswered questions had me rapt. As I previously
noted
, the details carry this story far; from a sarcastic black picture frame to a hollowed-out
Joy of Cooking
, beautiful details are everywhere. But (sorry, I know, that word…) it is as if the unanswered questions that kept me in suspense were far too big and complex for the story to ever match with the requisite big and complex answers. The story is truly stunning until it is time to resolve, and then it buckles under its own weight.
Greta Elbus, June's sixteen-year-old sister, is a prime example of a complex question with a far too simple answer. Greta is beautiful and talented, the star of her high school's production of
South Pacific
. She is also the most obvious villain of the book. Her treatment of Finn's death and of June is shockingly cruel. As the story progresses, Greta deteriorates, with June describing her as vicious and manic. Greta becomes distant from her friends and begins to drink excessively, pouring vodka into her juice during breakfast. The reader is left in the dark as to what is causing her to behave this way.
Near the end of the book, the reader finally learns that Greta is jealous that June chose to spend more time with Finn than with her. Also, she is unlucky enough to be offered a "huge chance of a lifetime," the opportunity to be in the Broadway production of
Annie
. Greta complains that she cannot believe she is "not supposed to be a kid anymore." She wants to be "average" rather than "great." I get that what is arguably trivial can seem devastating when you are a teenager, but the discrepancy between behavior and reason for behavior seemed far too extreme. This is only one example of the book's tendency to offer incredibly simple answers to big questions.
In my
preview
of
Tell the Wolves I'm Home
, I declared that I was in the midst of a stunning read, and I was, and continued to be for most part. The shortfall described above is not enough to take away from the beauty of the book, mostly stemming from the impressive details. There is a scene when June goes down to Finn's basement for the first time. In the basement, each tenant of Finn's apartment building has a storage unit of the standard fare, with stacks of boxes sitting below a bare bulb hanging from the ceiling. But not Finn's storage unit. In place of a bare bulb hangs a crystal chandelier. There is an Oriental rug and a bookshelf filled with field guides to everything: seashells, gemstones, wildflowers, and trees. The story behind why the "annex" exists in the first place is both heartwarming and heartbreaking, like so much of what happens in
Tell the Wolves I'm Home
. And trust me on the details.